The Phablet show!
Posted date: : January 12, 2013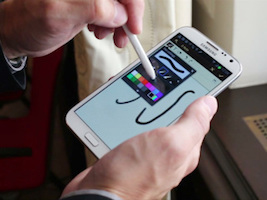 After the announcement of Samsung's Galaxy Note 'Phablet', the trend to mix phones with tablets has begun. Tablets are large sized devices which might work out as phones. Their screen resolution is great and thus preferable to play games and watch videos. After Samsung mixed the screen preference of tablet with voice air capability of phones, it gave way to another big industry after mobile phones; the Phablet industry!
Many cellular phone makers have followed Samsung and there are rumors that most of them are going to make releases by the end of the year in US. Telecom equipment giants like LG, ZTE, HTC and Sharp have already announced their prototype.
News has it that HTC will release Droid DNA in Japan. The 5-inches screened Phablet will offer a rear 8MP camera with 2MP in front with quad core processor and 2GB RAM. The storage is likely to be 16GB. Though the features will provide stiff competition to Samsung, it's only about the wait.
LG and Sharp's prototype have been rumored to have almost same features except that sharp has released itself in Russia and its processor is weak compared to others. While LG has full scope of gaining large share in the market ZTE has focused itself on windows 8 based Phablet. Naturally somebody has to keep that alive too!