Pregnant women should abstain from using mobile phone!
Posted date: : January 12, 2013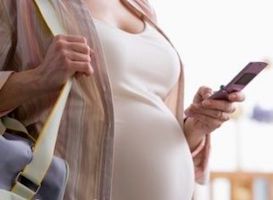 A Recent study has asked women to be cautious on the use of cell phones during their pregnancy days. The study came from Dr Hugh Taylor, Yale school of medicine. Taylor has been a veteran activist about the cell phone radiation limiting and has suggested governments of different parts of the world on the same. He has also been against the wrong promotion of telecom companies' and there not highlighting the proper usage of cell phone; precisely use of mobile phone by keeping them near the body part!
In the study, some pregnant mice cages were exposed to cell phone radiation while others were kept cent percent free. All of them were made to deliver babies under very normal conditions. When the study was done on their babies, it was found that babies of the mice exposed to radiation were hyperactive and their brain was weak. They could not relate to nature very much and were lagging any care from their mother. On the other hand everything was normal about the babies of mice not exposed to radiation.
The research team will meet soon to discuss the report and formulate further probe. There have been many warnings regarding the use of cell phones by pregnant women. In fact recent notifications released by WHO has marked the probability of cell phone radiation causing cancer.