App Stops Hate Crime in Northern Ireland Apps Cashing In on U.S. Shopping Frenzy Insurance Doesn't Guarantee a New Phone
Posted date: : January 12, 2013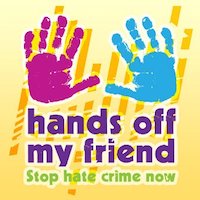 A non-profit organization based in Derry, Northern Ireland, has introduced a smartphone app that aims to stop hate crimes of all kinds.
The Hands Off My Friend app, which is available for download on Android and Apple phones, as well as BlackBerry and Windows mobile devices, makes it very easy to get in touch, find support and report hate crimes in Northern Ireland.
The organization, formed under the Foyle Multicultural Forum (FMF), says the free app is a derivative of the Hands Off My Friend campaign, which was launched to address the issue of under reporting of hate crime in Derry, Limavady, Magherafelt and Strabane council areas, as well as Ballymoney, Ballymena and Larne.
Limavady Borough Council's Sinead Barr said the app is a welcome tool in the efforts against hate crime, which ranges from name-calling, to day-to-day harassment, violence and in extreme cases, murder.
The FMF says that reporting a hate incident or crime even anonymously may give them vital information to help identify an offender, a crime hotspot, prevent further offences and stop hate crime.
Features of the smartphone app include:
– GPS listing of local support agencies;
– E-mail contact form for one-touch crime reporting;
– Connect on Facebook and Twitter;
– Send photos straight from the phone and be entered in monthly contests;
– Receive up to date messages regarding upcoming events; and
– View upcoming events